HANANewsletter VOL 1 ED 2
In this edition:

* - HANA Track Ratings Are Complete!
* - HANA Member Pins - They are here! And they are sharp
* - HANA Day at the Races - Announced for April 18th at Keeneland
* - HANA Track Data- Get ready for a neat player resource on HANAweb
* - HANA Members Call For Organization - Letter from Gallo and Mayo

Hi to everyone from HANA. It has been a couple of months since our last update. We are super-happy with membership gains over the last couple of months and we thank you all for signing up. Currently we are well over 600 members and we are still drawing membership from all facets of the business - fans, weekend players, larger players, and even racetrack employees.

We told you we would not bug you too much (we get way too many emails just like you do!) but we did have some important items on the horizon that we thought you might be interested in. So here we go.........

HANA Track Ratings

If you have been following the blog, or the racing press, you will know that your group has gotten some play over the last three months. Our HANA Top 65 - detailing the top 65 tracks in North America was featured on the Paulick Report, with full feature articles on the Top Ten Tracks at the bloodhorse.com. We congratulate Keeneland on their number one ranking.

We received approximately 120 new sign ups during the Top Tracks phase. We had a feature 15 second spot on Keeneland run on TVG, and Nick Nicholson placed a video greeting to the Industry, and all HANA members up on the Keeneland site. In case you missed it, here is a link to our brand new HANA Youtube page:
http://www.youtube.com/horseplayersassn

Watch Nick Nicholson's reaction to the HANA ranking.

Full coverage of the Track Ratings are on the blog and we thank everyone who participated in our interviews. We would like to let you know that several track's contacted us and we spoke about the three things we highlighted in the ratings: Lower takeouts, better field size and better wagers. We thank them for listening to horseplayers. If we could get those three metrics changed for the better, we will have succeeded.

Member Pins - They Are Here!

Treasurer Theresia Muller likes wearing neat stuff, unlike the rest of the board who generally like t-shirts and HANA Boxer shorts. So when she said "the pins are here and they are great!" we smiled. What do you think?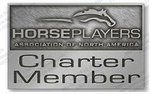 To get yours it is really easy. Just click this link: http://www.horseplayersassociation.org/hanapins.html
You can buy one via Paypal, or by check with regular mail. We would like you to know we are not going to be stuffing any profits for these pins into our pockets. We have used our own funds to buy them to grow HANA. Any and all revenue will go right back into your organization. We want to grow and make a difference. Cost for the pins is $20. If you want to throw in a few extra bucks for Paypal fees, or because you hit a good score at the track yesterday we will not turn it down.

The pins themselves are antique silver die struck and are 1 inch by 0.6 inches. They are quite sharp, in our opinion. We hope you can help us out by picking one up one and wearing it to the track to be an advertiser for HANA. We sincerely need your help on this.

HANA Day at the Races

When: Saturday April 18th 2009

Where: Keeneland Race Course (might as well make the number one rated HANA track our first destination!)

Time: Post time!

We would like to invite all or any of you who may be in the Lexington area on April 18th to join us for a meet and greet at Keeneland Race Course. Over the last several weeks the board at HANA and several members have decided that the time has come to get together. Since most of us have only met online, or not at all, it certainly would be good idea. And Keeneland in the spring? Thatís tough to beat for horseplayers.

We are working our butts off to try and make this day fun, but do not expect anything elaborate in terms of giveaways and such (hey, we just hit you up for pin money!), but I think we will all have a good time at a wonderful track in spring. Many of us will be there all week (Wednesday through HANA Day), so if you can not make it Saturday let us know and we can hopefully say hi.

We will update members when we get more information over the coming weeks. Please keep an eye on our blog for further information. And please email us to let us know if you are going to be able to make it.

HANA Track Data

Interestingly enough our track ratings system kind of took a life of its own when we were published on the Bloodhorse. The original thought was to get up to date information for members and place this information on a player resource portion of our website. So we are happy to announce that Version 2.0 of the list is currently in construction, by our very capable board member Bill. Thankfully we have received feedback from the industry (and HANA members!) with up to date (February/March 2008) data. We are almost finished going through literally hundreds of pages of wager variety data (some tracks have changed their menu for 2009, or plan to, and this will be updated), we have new takeout data, including any state or local surcharges, and Bill (after the above is complete) is running his database with a March 1st to March 1st date range for up to date field size data. Version 2.0, we believe will be the most up to date player resource found on the web today with these metrics.

We have also listened to feedback from members and others who asked that we add a few features to the HANA Ratings. So, look for the following when the spreadsheets are released on a new player resource section on the website:

* Tracks sorted by handle categories - You wanted to be able to see handles for each track along with their score so that you can make sure they are high enough for your wagering style. We will be adding handle per race data and categorizing the tracks based on A, B and C handle levels, for example.

* Best Bet List - A HANA member commented that he would like to see what bets have the most value by bet type, so we will have it on the site

* Alphabetical Listing - This will be the main page. You will be able to easily find the track you are playing, or interested in, and all the data that accompanies it.

We hope to have sortable data and other things (we just got off of a weekly call and President Jeff Platt, being a programmer, might have more bells and whistles for us!), but being a volunteer organization time is tight, so we ask for your patience. Regardless, we think it will be pretty cool for horseplayers.

Mike Mayo and Ross Gallo

Two members, Ross Gallo and Mike Mayo came up with something and we would like to hear your feedback on it. Feedback on grand ideas which can help our game is vital. So please let us know what you think. Follow the link to their open letter here: http://blog.horseplayersassociation.org/2009/03/guest-post-united-we-stand.html

Well, that's about it for this edition. We (as always) thank you for your support. Since our last update our blog and website traffic has virtually doubled. Our membership is up 40%. We have already received feedback from all facets of racing and are becoming a force for change. Already we see that changing the narrative with the horseplayer in mind has made some headway: Hawthorne announced a large rebate program for players, California embraces lower prices via their reversal on rebates, and just announced by Kentucky lawmakers - they will not be seeking a takeout increase due to "pushback". Let's hope we continue this in the same way for our next newsletter. Thanks again to everyone, good luck at the windows, and if you have not told a horseplayer about HANA yet, tell them today!
HANAWeb: http://www.horseplayersassociation.org/
HANAStore (I am getting boxer shorts this week and I can't wait): http://www.cafepress.com/hana_swag
HANAblog (updated daily, please comment if you wish): http://blog.horseplayersassociation.org
Email address: horseplayersassociation@gmail.com
HANA Youtube Page: http://www.youtube.com/horseplayersassn
When in the course of racing events, it becomes necessary for horseplayers to dissolve the financial bands which have connected them to insensitive racetrack owners and short-sighted state legislatures, and to assume among the powers of the earth, the rightful station to which they are entitled, they should declare the causes which impel them to action.

We hold these truths to be self-evident, that all horseplayers are endowed with certain unalienable rights, that among these are market-driven takeout rates, sterner drug policies, the integrity of the wagering pools and the embracing of new technologies that could make it easy to bet on any race, anywhere, at anytime.
-Cary Fotias; HANA Advisory Board